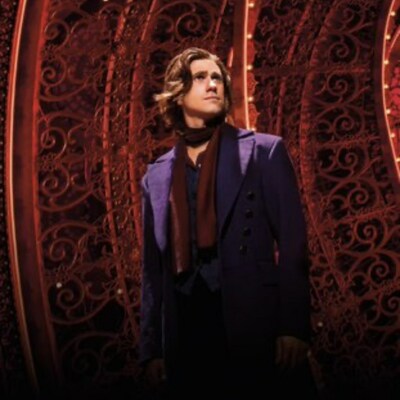 Tveit premio Tony al mejor actor de Broadway regresa al espectáculo por 12 semanas a partir del martes 17 de enero
Los talentos David Harris y André Ward se incorporarán al musical a partir del martes 7 de febrero
NUEVA YORK, 10 de enero de 2023 /PRNewswire-HISPANIC PR WIRE/ — Los productores de Moulin Rouge! The Musical, uno de los mejores espectáculos de Broadway, anunciaron que Aaron Tveit ganador del premio Tony a mejor actor, volverá al show en el papel de Christian por un tiempo limitado de 12 semanas que comenzará el martes 17 de enero en el Al Hirschfeld Theatre (302 West 45th St, NYC).
Tveit será coprotagonista junto a Ashley Loren, quien continúa en el papel de Satine; entretanto, Derek Klena quien actualmente tiene el papel estelar de Christian, tendrá una pausa hasta el martes 11 de abril de 2023.
Los talentos David Harris y André Ward se unirán al elenco  en los papeles del Duque de Monroth y Toulouse-Lautrec, respectivamente, a partir del martes 7 de febrero. Sahr Ngaujah, quien recibió una nominación al premio Tony por crear el papel de Toulouse-Lautrec en el reparto original de Broadway, interpretará su última función el domingo 5 de febrero. Declan Bennett tendrá su última función como el Duque de Monroth el domingo 15 de enero. Desde el martes 17 de enero hasta el domingo 5 de febrero, el papel será interpretado por Dylan Paul.
Los miembros del reparto actual – Eric Anderson como Harold Zidler, Caleb Marshall–Villarreal como Santiago, Jessica Lee Goldyn como Nini y Oyoyo Joi como Satine Alternate – continuarán en la obra.
Aaron Tveit creó el papel de Christian, el cual le valió su primer Premio Tony al mejor actor, en Moulin Rouge! The Musical, primero en Boston, para el estreno mundial en el verano de 2018 y, luego, en Broadway, en el verano de 2019. Tveit también trabajó en Broadway en Catch Me If You Can, Next to Normal, Wicked y Hairspray. Otros créditos teatrales incluyen Assassins (West End) y Rent (Hollywood Bowl). Ha aparecido en televisión en "Schmigadoon!", nominada al Grammy, "American Horror Stories", "Graceland", "Grease Live!", "Gossip Girl" y "Brain Dead", entre otras. Entre sus créditos cinematográficos se encuentran las películas ganadoras del Oscar "Les Misérables", "Out of Blue", "Created Equal", "Undrafted", "Better Off Single" y "Howl", entre otras. Ha actuado en conciertos en NYC en el Webster Hall, Irving Plaza y LCT American Songbook, y en giras en Barrington Stage Company, The Paramount en NY, House of Blues, Boston, San Diego, The Belasco en L.A., Barns at Wolf Trap en D.C., The Vets. Sus grabaciones incluyen The Radio in My Head.
Contacto: Adriana Aristizabal
adriana@ivoice.agency
Foto – https://mma.prnewswire.com/media/1980824/Aaron_Tveit_Moulin_Rouge_The_Musical.jpg
FUENTE Moulin Rouge! The Musical