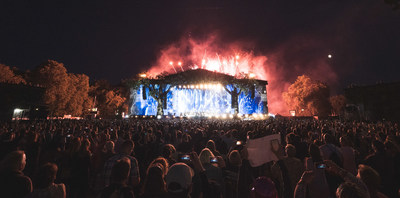 HOLLYWOOD, Florida, 21 de junio de 2022 /PRNewswire/ — Hard Rock International anunció una alianza con American Express presents BST Hyde Park, el importante festival de AEG Europe que se celebra cada año durante el verano para tomarse a Londres, hogar del primer Hard Rock Cafe de la marca que se inauguró en 1971. El festival de este año se llevará a cabo del viernes 24 de junio al domingo 10 de julio y verá a legendarios artistas principales subir al escenario durante tres fines de semana. Entre los artistas se encuentran Elton John, The Rolling Stones e Eagles, además de una serie de invitados especiales para cada espectáculo. Estas presentaciones se complementarán con festejos patrocinados por Hard Rock, que seguro van a deleitar a los amantes de la música y a los asistentes al festival. También regresa el Open House de BST Hyde Park, que ofrece una serie de maravillosas actividades gratuitas entre los fines de semana de música.
"Mientras reflexionamos en torno al medio siglo de Hard Rock, que comenzó justo aquí en Londres y desde entonces se ha expandido para llegar a todos los rincones del mundo, con sedes en más de 70 países, nos entusiasma participar en una celebración cultural tan icónica al ayudar a ampliar el acceso a los amantes de la música y enriquecer las experiencias de los asistentes al festival BST Hyde Park", afirmó Jim Allen, presidente de Hard Rock International.
Hard Rock Cafe hará su activación en BST Hyde Park con un café temporal en los terrenos del festival y en la sección VIP, donde los asistentes podrán disfrutar de las ofertas del menú sin distanciarse de la emoción. Además, para apoyar a la próxima generación de artistas que algún día podrían estar encabezando festivales, Hard Rock patrocina uno de los escenarios, Hard Rock Rising presents the Rainbow Stage, que contará con artistas emergentes de todo el mundo.
Las sedes de Hard Rock Cafe también tendrán artículos de colección únicos en exhibición, incluidas piezas de los artistas de BST Hyde Park Elton John, The Rolling Stones, Eagles, Duran Duran y Pearl Jam, así como artículos de otros afamados grandes de la música del Reino Unido.
"Durante 50 años, Hard Rock se ha asociado con los nombres más grandes de la música", comentó Jim King, director ejecutivo de Festivales Europeos en AEG Presents."Esperamos compartir su gloriosa historia en BST Hyde Park este verano, donde los fanáticos de la música podrán disfrutar del famoso Hard Rock Cafe y del Hard Rock Rising Stage".
Para obtener más información y la publicación completa, visite https://news.hardrock.com/ o https://www.hardrockcafe.com/bst-hyde-park.aspx.
Fotografía: https://mma.prnewswire.com/media/1844407/Hard_Rock_Tom_Hancock_BST.jpg 
Logotipo: https://mma.prnewswire.com/media/1844408/AEG_presents_BST.jpg 
Logotipo: https://mma.prnewswire.com/media/1757039/Hard_Rock_Cafe_Logo.jpg
FUENTE Hard Rock International